Chandler Place Wins 2020 Best of Assisted Living Award from SeniorAdvisor.com
Recognized for receiving high ratings and positive reviews
 St. Anthony, Minn. (Jan. 20, 2020) – Chandler Place, a senior living community located in St. Anthony, Minn., is proud to announce that they have been selected as one of the 2020 Best of Assisted Living Award Winners on SeniorAdvisor.com, the largest ratings and reviews site for senior care and services in North America and Canada.
SeniorAdvisor.com is in their 7th year of hosting the Best of Senior Living Awards.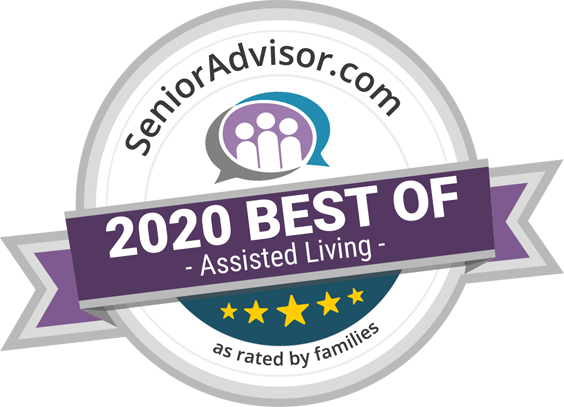 SeniorAdvisor.com's Best of 2020 Award winners represent the best of the best of in-home care, assisted living, and other senior living providers, based on the online reviews written by seniors and their families. This exclusive designation honors the top 2-3 % of senior care providers across the United States and Canada.
The annual SeniorAdvisor.com Best of Senior Living Awards tabulates over 240,000 family created reviews to find the highest quality care providers for this honor. Of the nearly 45,000 communities currently listed on SeniorAdvisor.com, just over 610 were recognized with this prestigious award.
Chandler Place is one of the only winners in St. Anthony, Minn., and regularly receives exceptionally positive reviews from their senior customers and their families like this one: "My mother-in-law lives at Chandler. I go almost every day to visit her. The staff is very pleasant and listens to your concerns. They greet everyone by name and make them feel special. The community space and dining rooms are very clean and welcoming. Thank you all for a listening ear and helping hand," said Rita.
"We are grateful to receive the award for 2020 Best of Assisted Living. Thank you to those who took the time to submit a positive review," said William Huseonica, executive director of Chandler Place.
"As SeniorAdvisor.com's Best of Senior Living Awards enters its 7th year of honoring the top family rated communities and care providers, we are proud to say that the bar has been raised. In order to ensure only the best communities and care providers win, we decided to make the criteria harder than ever this award season and over 610 senior living and home care providers rose to the occasion. Each year we are increasingly impressed with the quality of winners and look forward to spreading the word about these award winning organizations."
To qualify for inclusion in the 2020 Best of Senior Living Awards, care providers must have maintained an average overall rating of at least 4.5 stars while receiving five or more new reviews between November 17, 2018 and October 18, 2019. Additional details and a complete list of award winners can be found on SeniorAdvisor.com.
FOR MORE INFORMATION:
William Huseonica, Executive Director
william.huseonica@chandlerplacesenior.com
612-788-7321
---