Chandler Place Recognized Among Top Senior Living & Health Care Communities
Excellence in Action award recognizes exemplary commitment to quality
ST. ANTHONY, Minn. (Sept. 11, 2015) — Chandler Place today announced that it has received the 2015 Excellence in Action award from My InnerView by National Research Corporation for customer satisfaction in assisted living. The community is managed by The Goodman Group, a national leader in developing and managing senior living and health care communities. This honor recognizes long-term care and senior living organizations that achieve the highest levels of satisfaction excellence, as demonstrated by overall resident or employee satisfaction scores that fall within the top 10 percent of the My InnerView product database, the largest in the U.S.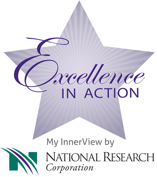 "The Excellence in Action award isn't just any quality performance award," said Jason Stevens, Senior Vice President of Business Development at National Research. "Rather, it's an award that defines what it means for providers to provide the right kind of care – patient-centered care – for their residents, families, and employees. It's an honor and well-deserved accomplishment for repeat winners and new organizations alike."
"We are very proud to be recognized for reaching the top 10 percentile in the areas of willingness to recommend as a place to receive care, and appreciate our employees' dedication to providing exceptional Platinum Service® for our residents," said William Huseonica, Executive Director of Chandler Place. "The Excellence in Action Award reflects our ongoing commitment to our residents, their families, and our employees, and provides another valuable evaluation for families to use to select a senior living and health care community for their loved one. Chandler Place has been a part of the St. Anthony community for 29 years this November, and we look forward to serving the area for many more years to come."
The Excellence in Action awards are presented exclusively to National Research clients that use My InnerView products. Client facilities must have completed a customer or workforce satisfaction survey during calendar year 2014. Winners must have also achieved a minimum of 10 responses with a minimum 30 percent response rate and scored in the top 10 percent of qualifying facilities on the question "What is your recommendation of this facility to others" in terms of the percentage of respondents rating the facility as "excellent."
Chandler Place is one of five Goodman Group managed communities to receive the award this year. The others recognized include The Commons on Marice, Eagan, Minn.; The Village Senior Residence, Missoula, Mont.; Westpark Village, Billings, Mont.; and Terracina Grand, Naples, Fla. Chandler Place and The Commons on Marice are the only 2015 award recipients in the Minneapolis metro area.
---