Chandler Place Hosts Recognition Event to Honor Military Wives and Female Veterans During Women's History Month
Guest Speaker Elizabeth (Betty) Strohfus, WWII-Era WASP Pilot, Inductee of Minnesota Aviation Hall of Fame
Who: Chandler Place is hosting a special event to recognize military wives of veterans and female veterans residing at Chandler Place/Pearl Garden whose loved one or the veteran themselves have served in the Army, Air Force, Air Corp., Marines, Navy and Red Cross. Chandler Place resident veterans include two Bronze Star and one Purple Heart recipient. They expect to have 60-75 women in attendance.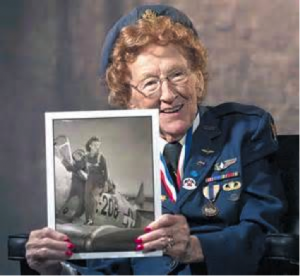 Growing up in Minnesota, guest speaker Betty Strohfus graduated from Faribault High School in 1937. She got the opportunity to experience flying and loved it, and sold her bike to get a loan to join the local Sky Club. In 1943, she joined the WWII Women Airforce Service Pilots, a.k.a. WASPs, the first women in history to fly America's military aircraft. She flew eight different aircraft on many training missions against U.S. Army targets. She also instructed male cadets in instrument flight. Betty has traveled to more than 28 states telling her story to thousands of people. She was inducted into the Minnesota Aviation Hall of Fame in 2001. Betty currently lives in Faribault. Please join us for this great opportunity to hear Betty speak and meet our Chandler Place military wives and female veterans.
What: In honor of National Women's History Month in March, Chandler Place is hosting a private luncheon to recognize all female residents at the senior living community who were married to a veteran or are a veteran themselves.
This year is the 35th anniversary of the Women's History Movement and the National Women's History Project. During 2015, we are helping to recognize and celebrate the many ways that women's history has become woven into the fabric of our State and nation.
Why: Military wives and female veterans play a key role in serving and protecting our country, and supporting their families. Their many accomplishments and contributions deserve being recognized.
When: Tuesday, March 31, 2015 – 1:30 – 2:30 p.m.
Where:
Chandler Place
The Fountains Dining Room
3701 Chandler Dr. NE
Minneapolis, MN 55421
612-788-7321
www.chandlerplacesenior.com
---